We are the GoDartsPro, a two man team and our passion is darts.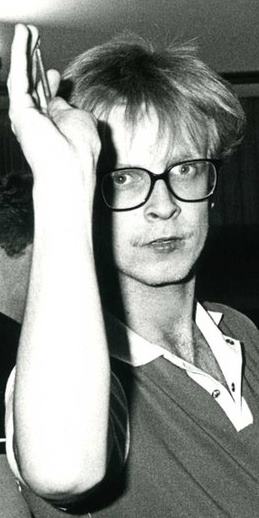 Year 1985, just before that match against
MBE ERIC BRISTOW in the Winmau World Masters
last 32 stage in London's legendary Rainbow Suite.
Mikko Laiho has been involved to game since 1979 when he got his first set of darts, few years later he made his debut on the international circuit at the World Masters in 1984. His best achievements were winning several Finnish championships in Youth, adult pairs and singles. He has written two books about darts in Finnish ("Kaikki dartsista!" 1993, Kirjayhtyma Oy and "Enemman dartsista" 2010 Jees Jees Oy). He also was a Finnish darts magazines editor-in-chief and managed Finnish youth team 1997.

His active career ended to a brain haemorrhage 2006, but he has made a full recovery and practises still a bit "just to test newly invented games", and you might end up seeing him at the SDC's tours now and then. Mikko has been working closely with Winmau and Red Dragon darts, and he's been personally coaching players in all levels: from beginners to Pub players to World Champions.

Mikko is a keen gambler (in darts and horses) and lies that he's still winning after he started to keep his record on 2010! Mikko loves his family, theatre and darts. He enjoys now and then red wine and good food, tries to keep fit by cycling and used to work as theatre director for two decades in Finland.
Anders Östman is a Swedish entrepreneur who shares Mikko's passion to darts. His passion for darts is lifelong and hits first memory of playing darts was at the age of 7 with heavy darts with real feathers. Though he's never played in any championships (not yet) the love for throwing a game of darts with friends or the meditative effect for practicing darts for hours has always been there.

After nearly 15 years of darts hiatus he again started to practice darts in the summer of 2017 and started to develop GoDartsPro, first to get fun and inspiring practice routines for himself to improve in darts. When members were signing up from all over the world he got hooked.

Anders started to learn programming back in -82 and has been working in the IT-industry since -87. During his over 20 years as an Internet developer he's been working with large websites and web solutions for multinational corporations all over the world.

When he's not working on the website he enjoys riding his Harley Davidson, shoot some photos, painting or playing the drums as loud as possible.