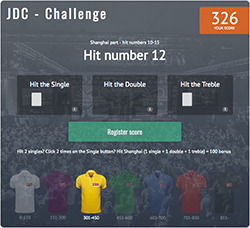 Play the JDC Challenge
JDC Academy Routines with Chris Mason

JDC Challenge
The JDC Challenge has three parts:
Shanghai 10-15
- Three darts on each number
Doubles 1-20+BULL
- One darts on each
Shanghai 15-20
- Three darts on each number

Hit Shanghai (1 single + 1 double + 1 treble) = 100 points bonus. On the doubles round you get 50 points for each double and a bonus of 50 points for BULL
JDC and GDP agree on cooperation
GoDartsPro and JDC (Junior Darts Corporation) are now exclusive and official partners in the fascinating world of youth darts. We both share a passion to try to help youngsters to be as good as they ever can and as we all know that there aren't shortcuts – quality practise plus the hours put in, nothing beats those.
We start with creating a platform for the JDC Challenge. The Academy Coaches enters the scores for the Academy Players which will make the scores official.
We gather all the Academy Coaches through this page where we will provide them with easy functionality for their Academies.
The Academy Players can practice on the website to get ready for the official challenge with their coach.
For more information about JDC, visit their website at www.juniordarts.com.
Try our GreenZone games