1-to-1 darts coaching by Mikko Laiho
We also offer high quality on person-to-person coaching. Mikko Laiho is widely regarded as a Worlds number one practise guru and he can point out anything to improve in your throw, game as general and particularly in your practise routines. He will recommend you the best equipment and changes you benefit of doing, and even he's not a qualified sports psychologist as such, he knows also what will be best for you.
He will recommend you EG a proper diet, how to keep calm under a pressure and makes you better player during these two days of personal focus.
He has been training all level of players like early-stage, County and Pro Tour, youth and female players but also Major finalist and even World Champions.
If you're really serious about your game, need a bit of push-up, are struggling a little or require advice take this offer and you will get sorted!
Price
2 days of personal coaching, 4 hours per day
£750 + accommodation + travel expenses
Enter our form for coaching inquiry
Mikko's CV
1979 – first set of own darts
1984 – first time in Finnish National team
1987 – first written piece about practise in Finnish Darts-magazine
1993 – first reference book about darts "Kaikki Dartsista" (All about darts, Kirjayhtymä 1993)
1994-1997 – An editor-in-Chief of Finnish Darts-magazine
1997 – Youth coach & manager for Finnish national team (Finland beat England in boys team final 9-1!)
2000 – Finnish number one in SDL (Finnish Darts Organisation) ranking list
2000 – 2014 – Personal manager of Marko Pusa and Jarkko Komula
2009 – 2013 – Editor-in-chief of Finnish first online forum for the darts
2010 – second reference book about darts "Enemmän Dartsista!" (More about darts!, Jees Jees Oy, 2010)
2011 – present – Coach for the multiple darts pro's
2011 – present – Co-operation with Winmau
2013 – present – Co-operation with Red Dragon Darts
2018 – Partner of GoDartsPro.com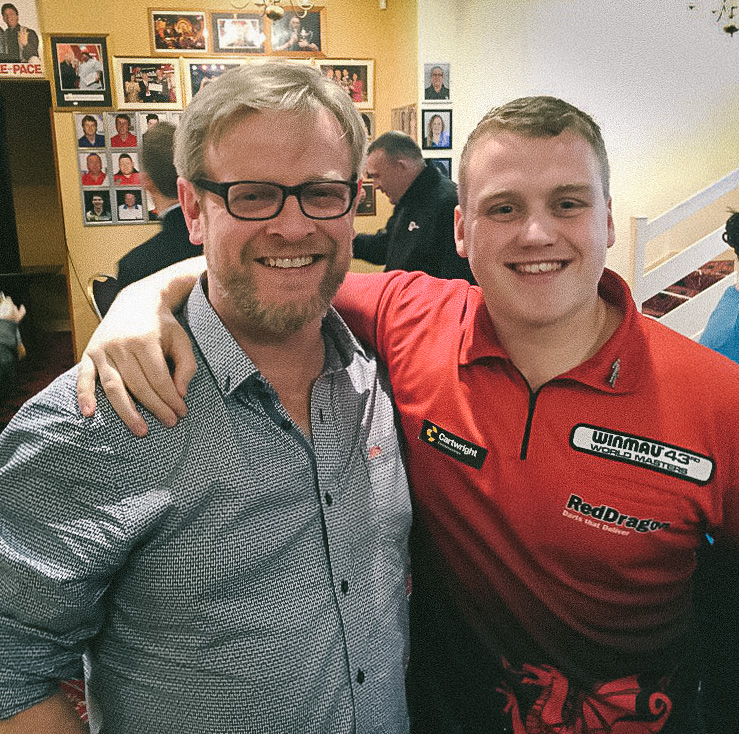 Dean Reynolds loves doing Mikko's routines