With the new Playlists-feature on GoDartsPro you'll be able to practise more structured and less random. You can follow other members' playlists for inspiration and take your training to a new level.

Creating custom workouts has been a frequently suggested feature since the launch of the workouts feature with the Virtual Coach. Many members has asked for a way to group their favourite games into a sequenced playlist for better flow during their training. Instead of picking random games to practise, you can now create different playlists for different needs.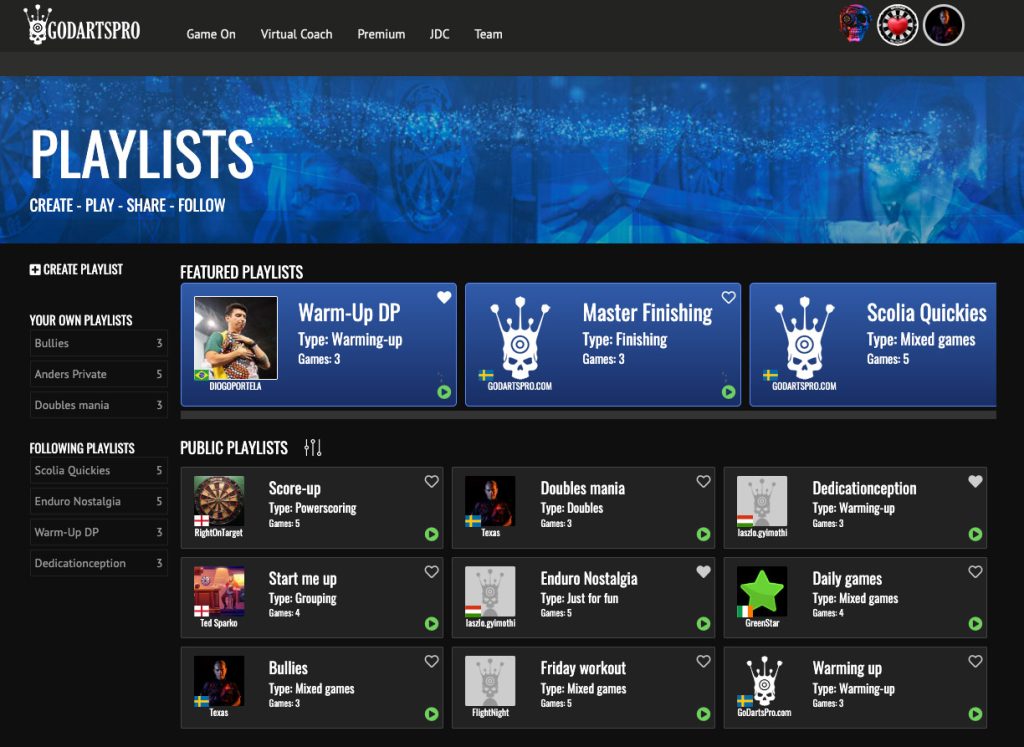 At the playlists page you'll see your own playlists, featured playlists and public playlists. Just click a playlist to expand and see the games added to it. On each playlist you'll have a small HEART symbol and by clicking it you will toggle follow/unfollow. For each playlist you'll also see a small PLAY symbol that will start the first game in the playlist for you.
When the first game is finished a small popup will show a countdown timer before the next game in the playlist automatically will load.
Next to the title "PUBLIC PLAYLISTS" you'll also see a filter symbol that will let you filter the public playlists shown.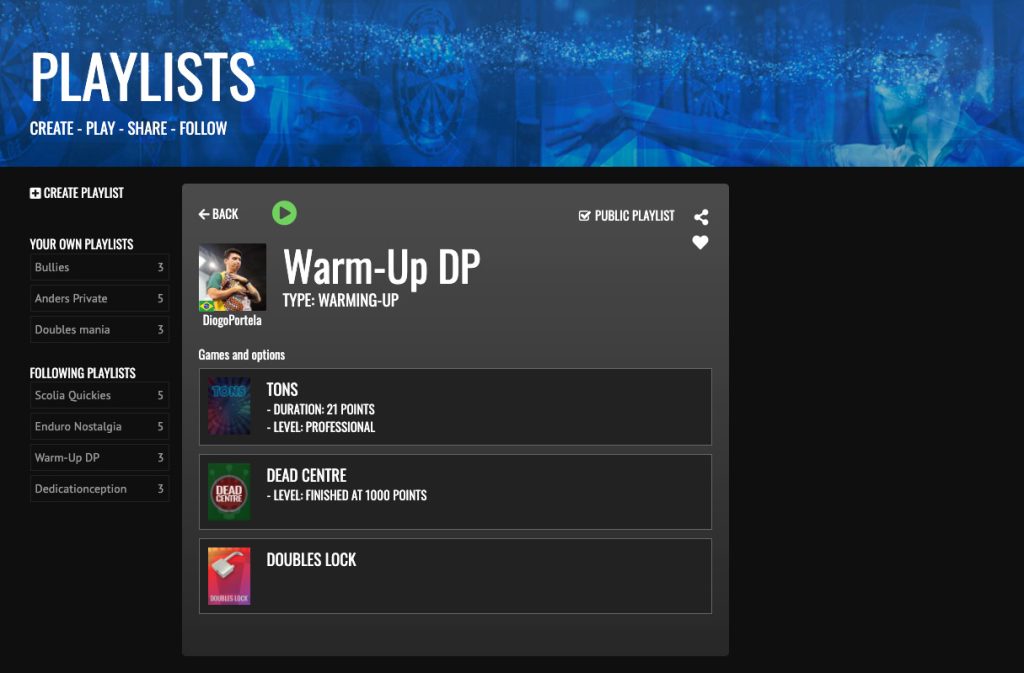 When you've clicked a playlist it will expand and show the details for you. Top right you can copy the link and share with your friends. Just click the play icon to start the playlist or back to minimize the playlist again.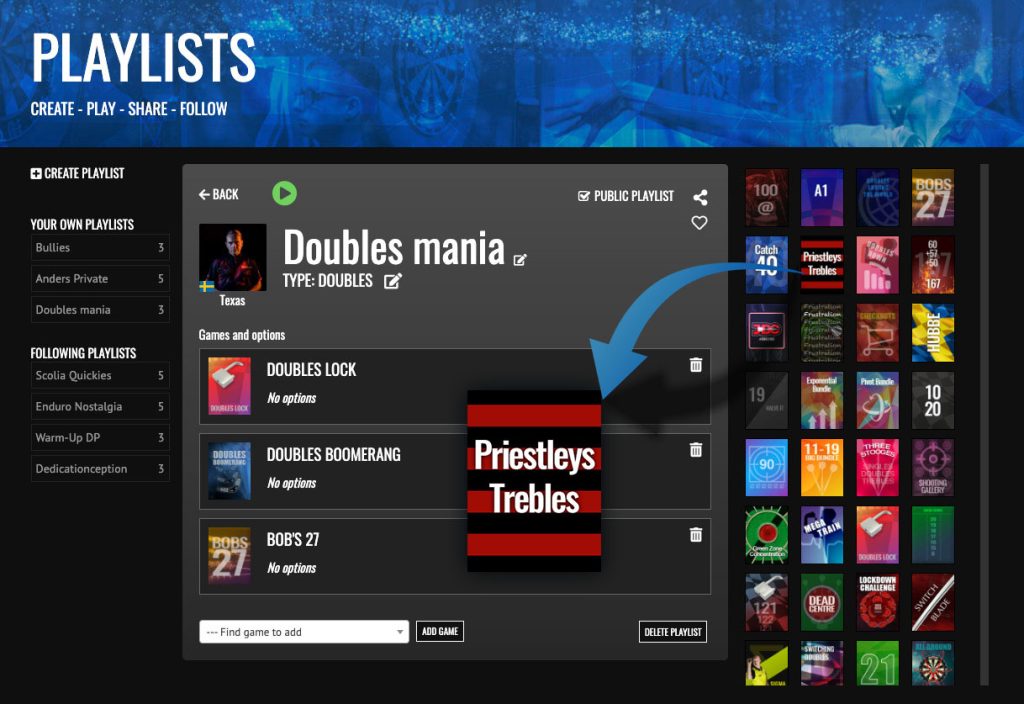 When you're creating your own playlist you have different options to add the games to the playlist. If you are using a computer, the easiest option is to just DRAG-AND-DROP the games in the list where you want them. You can also easily change the order of the playlist by dragging the games and place them in the right order. For some games, there will also be different OPTIONS available. If you select any options these will be preselected for the game and can not be altered. Under the list of games you will also see a select option "– Find game to add". Here you can search for the game you're looking for and add it to the end of your playlist.
Just click the name to change it or click the icon next to the playlist type to give your playlist some other category.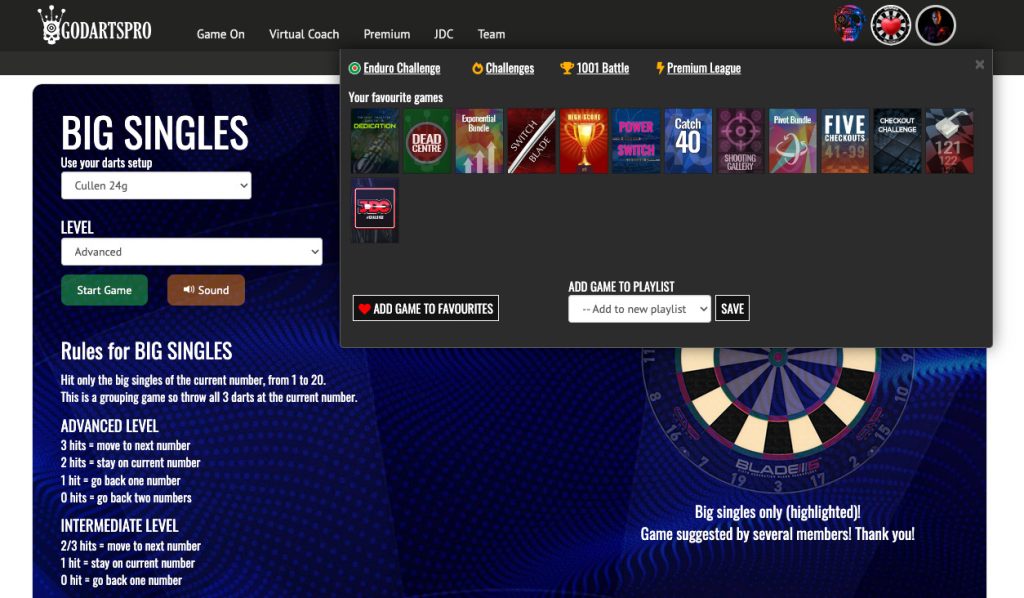 You can also create a playlist or add games to an existing playlist from within the games available. Just click the HEART icon in top menu to expand the quick links dropdown.
The playlist feature is now available under a BETA status and will be regularly updated.
More than 50 games can be added to playlists and more games will have support soon as well.
Please let me know if you have any suggestions on how to improve the playlists feature even more.
Also let me know if you find any issues that needs to be fixed.
I'd appreciate if your post these things directly to me and I will respond as fast as possible.
Either as email to info@godartspro.com or direct message on FB or Twitter.
And enjoy your darts!
Thanks!
-Anders
Founder of GoDartsPro
Latest news on GoDartsPro.com
The Finishing Star game