This is our new flagship, the Crown Judgement! You can play this game only once in a month, so you better get your focus right before starting this game.
Why only once in a month? Because we know that playing the same game over and over again gives you an edge – you get naturally in games which you practise! It's human nature. So therefore we locked this bad boy for a month per time because you want to know your TRUE improvement, and a month is a decent time for that. Not more, not less, but a month.
This is a measurement tool like no other!
RULES
We divided this game in five different sections, which all are essential to everyone who loves and wants to compete in darts. This game lasts approximately one hour, so make sure before you start that you have got time for this. Also we recommend highly that you have a short break somewhere in the middle of the game.
MAJOR DOUBLES
You start by hitting MAJOR DOUBLES, which are the most important part of any darts players' game. Mark the score after every throw, or if you trust your memory and want to have a bit of flow, you can mark after two or even three throws your hits up.
BIG TREBLES
Then it's time for BIG TREBLES, which is very similar to the previous division of this game.
Now you approach the part of the game called COMBO CHECK-OUTS and the rules get a bit trickier. You've exactly 6 darts to finish the first target score. But if you do it earlier, you gain extra points by hitting the same double again you managed to finish on! So in every turn of this game, all six darts are used. So read the instructions very carefully.
COMBO-CHECK-OUTS
You've exactly 6 darts to finish the current target score. But if you do it earlier, you gain extra points by hitting the same double again that you managed to finish on! If you are busted and got darts left you continue to try to finish the checkout.
36 BEST
You can get anything between 0 to 6 points at every turn. Mark them up and fill in the form and you're ready to move on to SCORING section of 36 BEST.
Now this one is easy again, all you need to do is to score as heavily as you can and mark up your scores after SIX darts.
SHANGHAI NIGHTS
After that, you are in the final stretch, The SHANGHAI NIGHTS. This is one that can make or break you, you can easily better your average doing well this game only! But there's also pressure. First of all, you need to hit three different targets with your six darts per turn. Single, double, and treble, all of them only ONCE. You get a point from the correct single, correct double, and correct treble.
If you manage to hit these all earlier than six darts, go for the Bullseye! You gain an extra point by hitting 25, two extra points by hitting 2-3 25's, three extra points by 4 or more 25's – and remember bullseye or 50 is always 2 times 25.
So you're using every turn exactly 6 darts, no less, no more.
In all five sections, the maximum score is 108 as total, so the maximum is 540 but you will be only shown your MICO-factor scores.
Even though Mikko's idea was that this game must be played in one session, with one or two short breaks in between, I've now added the functionality to resume a started but not finished session. Mainly because I've had a few members reporting that their WiFi dropped in the middle of a session and that session was ruined. So, I recommend you to still finish the game in one session but with a short break after 20-30 minutes or so.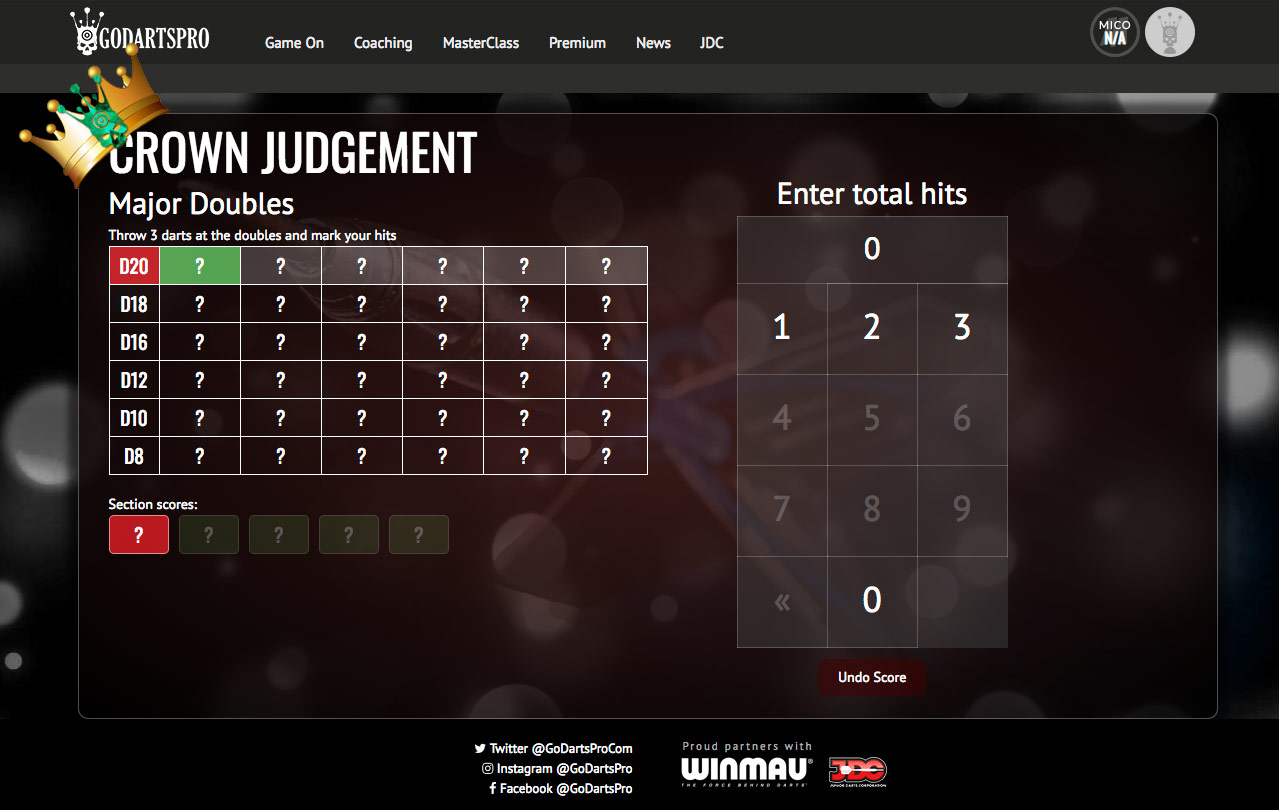 Latest news on GoDartsPro.com
The Finishing Star game